Someone, Somewhere, with Something: The Origins of
Figurski
by Richard Holeton, author
Figurski at Findhorn on Acid, first published in 2001, has been unavailable for most people to read for about twelve years prior to the release of this 20th Anniversary Edition. Having the novel republished on the modern web, especially in this "permanent," sustainable format, widely accessible to readers and scholars, is a dream come true for me. For this I am eternally grateful to the team led and assembled by Dr. Dene Grigar at the Electronic Literature Lab, Washington State University Vancouver, a team whose professional skills are matched only by their grace, geniality, and good humor.
Bringing Figurski back to life seems an opportunity to reflect briefly about how it came to life. In 1995, I wrote a 500-word flash fiction about Theodore Streleski, a real-life, perennial Stanford graduate student who notoriously bludgeoned to death his faculty advisor with a hammer in the 1970s. "Streleski at Findhorn on Acid," which imagined Streleski visiting the New Age intentional community of Findhorn, Scotland, while high on LSD, won First Prize in Grain Magazine's 1995 "Short Grain Postcard Story" contest. The construct of my "Streleski" story—"Someone at Somewhere with Something"—seemed to lend itself to replication, and I began to envision a series of sequels. Meanwhile, I had been exposing my Stanford writing students to hypertext tools such as Apple's HyperCard, Eastgate's Storyspace, and the early web, and I'd developed an interest in composing a hypertext fiction.
What's a "hypertext fiction"? For those unfamiliar with the term, you can think of it as similar to, or identical to, a story or novel in the form of a self-contained website. Before the advent of the web, the earliest hypertext fictions were composed with standalone computers and software programs that created internal hyperlinks and multiple reading paths. Now most people who regularly use the internet have become accustomed to reading online, using buttons and browser controls to navigate forward and backward, and choosing links to click and follow. This alternative way of reading contrasts with the more linear and less interactive experience of reading straight through a printed book or magazine, and in the 1990s, when the web was new and strange, the idea of a fictional story being narrated on a computer in such a nonlinear and hyperlinked manner was still somewhat esoteric. Indeed, one way of understanding this new edition of Figurski is that it's been transformed from a more obscure hypertext format into an online form with which most readers are now familiar.
At some point my idea to write about multiple Someones, Somewheres, with Somethings clicked with the computer possibilities of hypertext, and the synergy between these two approaches became irresistible to me. I envisaged two more characters in addition to Streleski, two more places in addition to Findhorn, and two more artifacts in addition to LSD, within a single structure consisting of every possible combination of one, two, or all three characters with one, two, or all three of the artifacts. (In a nod to the laws of classical physics that the novel would end up violating in multiple other ways, I decided that the characters could not be at more than one place at the same time.) Storyspace was my software tool of choice because it was a fully-fleshed out hypertext writing environment, unlike the nascent web. Storyspace was also an established publishing platform with a stellar list of critically-acclaimed works. In addition, the affordances of Storyspace included, for both writer and reader, a graphical map showing the structure of "pages" and hyperlinks—a perfect match, it seemed, for visualizing and realizing my combinatorial approach.
With a structure conceived—a set of mathematical constraints involving multiples of three with 147 distinct combinatorial scenarios—I faced the exciting but daunting task of filling that structure with compelling content. In this sense, the blank screen is no different from the blank page. Some previous hypertext fictions, I felt, had strayed too far from the expectations that readers carried over from reading conventional stories and novels—expectations for interesting characters to hold onto, and for a strong storyline to keep one reading. In addition, the underlying architecture and linking structures of these early experiments were often mysterious or hidden from readers; portions of the text might even be invisible until the reader followed a particular reading path (e.g., for those familiar with Storyspace, using "guard fields" to conceal certain passages). The result was that these groundbreaking works were intellectually and theoretically exciting but, for me, could sometimes be cryptic and difficult to navigate, and they risked leaving readers, as some critics noted, "lost in hyperspace."
Standing on the shoulders of (or, in Figurskian terms, riding piggyback on) these previous texts, I wanted to write, first and foremost, an entertaining and humorous hypertext fiction. To do so I wanted to combine the emerging conventions of hypertext (smaller chunks of text connected with hyperlinks) with the older conventions of print text (tell a good story!). I wished to demystify the navigation of a large hypertext, to make the structure and linking scheme completely transparent (in today's terms, make the site easy to navigate). I wanted to write a novel with multiple reading paths and a linear plot line, populated with characters and settings and artifacts compelling enough, or satirical or absurd enough, to sustain hundreds of combinatorial scenes. A novel, above all, that would be as fun to read as it was to write. Those were some of my goals, and of course readers will decide the extent to which I achieved any of them.
One early decision I made about the characters would have implications for all nine of the character, place, and artifact elements. When the all-too-real Theodore Streleski was released from prison in 1985, he stated, "I have no intention of killing again. On the other hand, I cannot predict the future." He was paroled while steadfastly maintaining that his murder of math professor Karel de Leeuw was logical and morally correct, and he returned to living in the San Francisco Bay Area. Although Streleski was permanently banned from the Stanford campus, de Leeuw's widow and children still lived at the university—and I and my family did, too! All things considered, I decided it might be wiser to create a fictional character based on Streleski, rather than showcasing the unrepentant Streleski himself as the title protagonist of my novel. Thus was born copycat criminal Frank Figurski. Figurski became the model for the other main characters, who are, like Figurski, imitations or alternate-universe versions of real-life characters; the featured places and artifacts of the novel, too, are various mixtures of the artificial and the real.
The plot of Figurski involves a competition among the three characters for possession of one of the artifacts—a rare 18th-century automaton, Rosellini's 1737 Mechanical Pig, whose authenticity is frequently in doubt because of a clever forgery. The timeline, which can be read chronologically by following a default route through the hypertext, goes from 1993 to the end of year 2000; accordingly, the original Storyspace version of the novel has exactly 2001 links. Figurski's historical and cultural content—from Nancy Drew to Princess Diana, hallucinogens to the Holodeck, Scientology to Saddam Hussein—comes dominantly from the last decades of the 20th century. Thus Figurski is intended to be, besides a hypertext fiction, simply a novel of the 1990s, the turn of the 21st century.
Although I have portrayed the process in neat steps, the composition of Figurski was in reality much messier, its structure, content, and plotlines all created more or less concurrently and with many recursive loops. Along the way I received a great deal of help and invaluable feedback from readers, students, teachers, editors, and electronic literature colleagues. Notably:
• An early draft shared in Robert Kendall's pioneering online class at the New School for Social Research, "Hypertext Poetry and Fiction," in 1996, benefitted greatly from comments by fellow writers/students as well as from Rob.
• An incomplete draft became one of the texts used in Michael Tratner's course on the novel at Bryn Mawr College in 1998; Professor Tratner shared with me his students' comments along with his own, which contributed to the composition of the novel's concluding section (3.x).
• A penultimate draft, which became my 1998 MFA thesis at San Francisco State University, was developed in frequent consultation with my faculty advisors, novelist Michelle Carter and English professor/fiction writer Geoffrey Green.
• The final draft published by Eastgate Systems, in slightly different Macintosh and Windows versions on CD-ROM, was fine-tuned in close collaboration with my great editor Diane Greco and Eastgate's trailblazing chief scientist and Storyspace guru, Mark Bernstein.
•

We Descend

author Bill Bly very generously helped jumpstart the process of "translating"

Figurski

from Storyspace to the web.
The definitive versions of Figurski ("Classic" and "Contemporary") now offered on the web are the result of a 9-month intensive collaboration with the Electronic Literature Lab. The talented Holly Slocum, Betsy Hanrahan, and Kathleen Zoller, along with the rest of the ELL team, have seamlessly transformed the text, images, linking structure, and interface design of 1990s-era Storyspace software into a modern online reading experience. Dene Grigar, the visionary leader of that team and a force of nature for the preservation and promotion of electronic literature, discusses this transformation of Figurski in more depth in her introduction.
Finally, I want to offer my appreciation to Michael Tratner, author of four books of criticism, for applying his analytical brilliance to Figurski in his introduction, "The Distinctive Quality of Holeton's Hypertext Fiction," and especially for finding the novel great fun to read. Michael's blurb for the original Eastgate CD, regardless of the extent to which he still stands by it, remains probably my favorite comment about Figurski: "Holeton's hypertext belongs in the tradition of screwball comedy, but it raises that tradition to the level of metaphysics—a cross between Borges and the Marx Brothers." Readers will judge for themselves. As Borges said, "A book is not an isolated entity: it is an axis of innumerable relationships"; added Groucho Marx, "Outside of a dog, a book is man's best friend. Inside of a dog it's too dark to read." I wish Groucho had said "pig" instead of "dog," but happily, if you're reading hypertext fiction inside of anything, digital displays are illuminated.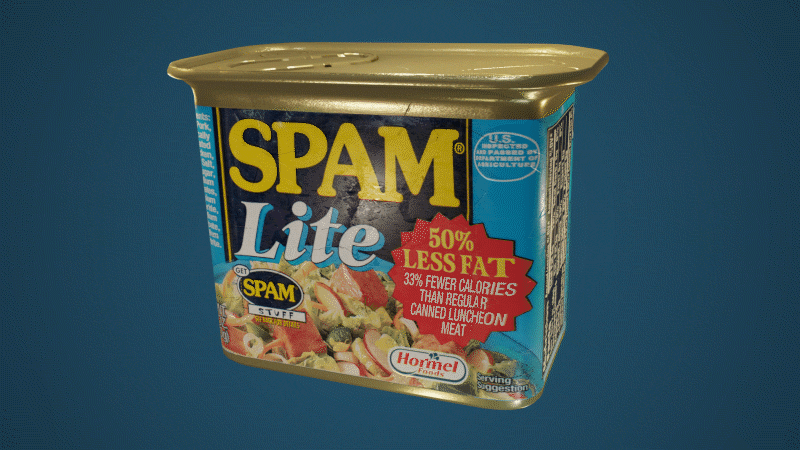 Fig. 1. GIF of an original can of Spam the author donated to The NEXT, modeled by Keegan Walden, Creative Media and Digital Culture program at WSUV, 2021.